ORALGEN® NuPearl® 32x ADVANCED TEETH WHITENING SYSTEM (Peroxide-Free) 2.5 mL with Bonus Whitening Pen
Peroxide-Free Whitening Results for a Naturally Brighter Smile
Clinically Proven to Whiten Teeth Up to 8.4 Shades in Just 7 Days
99+% Natural & Food-Grade Ingredients
100% Vegan & Gluten-Free
Specially Formulated for Sensitive Teeth
Visibly Whiter Teeth in 10 Minutes
100% Peroxide-Free Gentle Whitening Formula
Includes Bonus NuPearl 32x Perfecting Whitening Pen!
Professional Results with NuBright™ LED Brightening Technology
Dentist Recommended, FDA Cleared
Enamel Safe
Includes Professional Shade Guide
Description
Enjoy the benefits and quality of professional teeth whitening in the comfort of your own home for a fraction of the cost. NuPearl 32x is a revolutionary at-home whitening system, offering a unique 99+% natural formula that delivers professional results without harsh chemicals or bleaching, designed for sensitive teeth. It is a dentist-recommended, FDA cleared, natural, and peroxide-free with NuBright™ LED Technology, advanced botanical whitening gel, and natural peppermint essential oil, providing visibly whiter teeth in just minutes. Reduce the damage caused by years of drinking coffee, wine, smoking, or eating foods that can stain teeth by removing surface stains and deep-seated discoloration without damaging enamel and with less sensitivity!
While many people desire the results of bleaching, at-home whitening products contain large concentrations of chemicals that can damage healthy teeth and gums. NuPearl 32x is natural, safe for enamel, and gentle on teeth. All ingredients are 100% Food-Grade and GRAS (Generally Regarded as Safe). It's also free from harsh ingredients, including: Latex, Parabens, Sulfates, Sodium Fluoride, PEG/PPG, and is Gluten-Free. See significant changes in tooth color without the damaging effects of other whitening processes that can harm sensitive teeth and gums.
Bleaching treatments only provide a temporary solution to stains and discoloration on teeth, while NuPearl 32x utilizes professionally developed and patented stain-lifting technology to provide lasting results. The whitening gel works to actually lift stains from teeth without damaging enamel, with the potential to whiten teeth up to 8 shades in just one treatment cycle (7 days). Other whitening treatments simply bleach the surface of teeth, leaving stains behind.
To keep the results you achieve at the dentist, you'd have to return time and time again, which gets expensive! It's easy to use the NuPearl 32x Perfecting Whitening Pen together with our Whitening System to maintain the bright, white smile you want between treatments or on-the-go. Precise bristles help you target between teeth and tough-to-reach spots to keep your smile looking its best!
3 Easy Steps to a Whiter Smile!
1. Apply 99+% Natural Whitening Gel to Mouth Tray
2. Activate LED Brightening Light and Keep in Place for 10-20 Minutes
3. Smile with Confidence!
The NuPearl 32x Advanced Teeth Whitening System is comparable to expensive whitening treatments offered in a dentist's office. The procedure is similar – the natural whitening gel is applied to teeth while our exclusive NuBright LED technology uses low intensity lights, emitting high levels of brightness in a single direction onto the whitening gel, delivering professional results in just minutes!
How Does the Perfecting Pen Work?
The NuPearl 32x Perfecting Whitening Pen uses advanced whitening gel to deliver maximum results. Just release the gel into the brush applicator and apply to each tooth. Smile for 30 seconds, and rinse off in 10-20 minutes. The gel goes to work in just seconds for visibly whiter teeth! Use daily as needed to maintain your smile.
EXPERT TIP: After applying gel, turn on LED light tray and place in mouth to enhance the gel's whitening power! Keep on teeth for up to 10 minutes, then rinse.
Directions
1) Apply
Brush teeth with toothpaste and rinse. Apply one thin line of gel inside mouth tray on both upper and lower arches where teeth are most visible. Spread evenly along front of tray with syringe tip.
2) Activate
Turn on the NuBright™ LED Brightening Light and place the tray in your mouth. Keep in place for 10-20 minutes. When finished, remove light from mouth tray. Rinse mouth and tray with warm water.
3) Smile
Use shade guide to see teeth color after treatment. For best results, repeat twice daily until you reach desired teeth shade, for up to 7 days. Enjoy your whiter, brighter smile!
BONUS PERFECTING WHITENING PEN DIRECTIONS: Twist pen until the gel is visible through the brush tip. Apply a thin layer of gel on teeth. Target tough-to-reach spaces and between teeth for flawless results. Smile for 30 seconds and rinse after 10-20 minutes. Use daily as needed to maintain your whiter smile. For 1 hour after treatment, avoid eating, drinking and tobacco use.
Warning: Use as directed. If irritation or sensitivity occurs, discontinue use. These effects are generally mild, temporary, and not harmful. If you are in need of dental work, have dental work, or have staining from medication, ask your dentist if a whitening product is appropriate for you. Intended for natural teeth only, will not whiten caps, crowns, veneers, fillings, or dentures. Avoid contact of gel with eyes, clothes, leather, or fabric. Do not use if pregnant or lactating. Not a substitute for regular dental visits. Keep out of reach of children. Not intended for use with children under the age of 16.
Store in a cool, dry place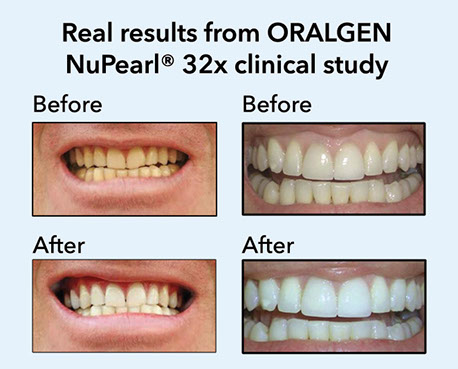 Ingredients
Glycerin, Sodium Bicarbonate, Chondrus Crispus (Carrageenan) Powder, Xylitol, Sorbitol, Aqua, Mentha Piperita (Peppermint) Oil, Vaccinium Macrocarpon (Cranberry) Seed Oil, Aloe Barbadensis (Aloe Vera) Leaf Juice, Anthemis Nobilis (Chamomile) Flower Extract, Cocamidopropyl Betaine, Limonene (Natural Flavor).
With organic, natural, kosher and alcohol free flavors.
Not Tested on Animals.