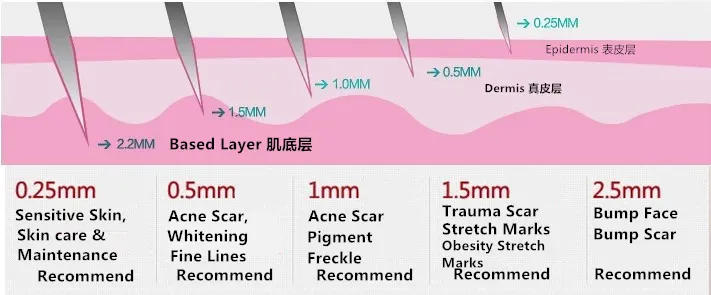 Today gonna introduced about different level needle roller functions & features ,basically this article will help on understanding each size of needle features.
Refer from the picture above 0.25 mm Needle able to reach epidermis only, therefore, 0.25 mm needle are suitable for people who use it for enhance facial solution, such as apply lotion, toner, liquid apply on skin layer with using derma roller together achieve better result, 0.25 mm are recommend for people who looking for maintenance current conditions.
In addition, 0.5 mm are same function as 0.25 mm mainly use for carry skin care products achieve better result, the only different is 0.5 mm much suitable for person who have serious facial problem such as acne problem, looking for whitening solution.Basically it suitable for person who looking significant result on facial problem.
Basically using 0.25 mm -1 mm size needle will not caused blood bleeding,unless user over power to use it.
For 1 mm needle it more on on critical problem on face, such as acne ,pigment or even freckle. Perhaps you have a visible or invisible acne scar, 1 mm needle can help improve dilute the scar.
Further on biggest size needle 1.5 mm & 2.5 mm mainly are using for stretch marks caused by obesity or after pregnancy stretch marks, However 1.5 mm & above size needle will caused slightly blood bleeding, as the needle will be piercing on based layer,though so this is normal.